History of the Park & Zoo
As anyone knows, wonderful things rarely happen overnight. It takes time, resources, and dedicated people with a dream.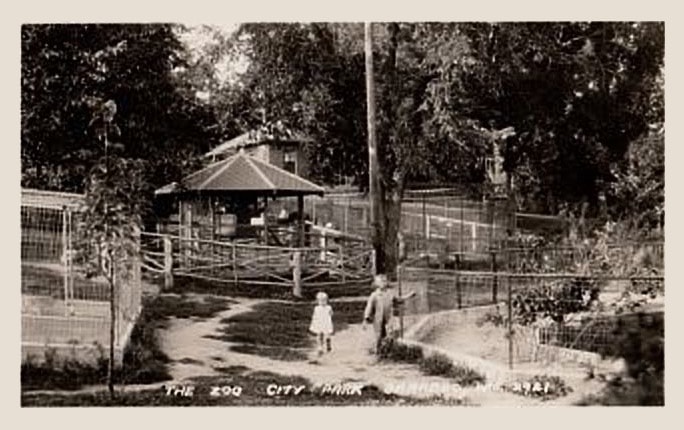 The Ochsner Park Zoo is located at the corner of Park Street and Zoo Lane in the City of Baraboo. The zoo first opened in 1926 with 2 bear cubs and now has over 30 different animal species and holds regular educational and enrichment programs.
The zoo is a USDA licensed facility that accepts animals born in captivity from licensed zoos or are not releasable in the wild due to injury.
Timeline
1918-February
Dr. Albert Ochsner donated 2.5 acres of land to the city of Baraboo. The city purchased an additional 9.5 acres of land from the Ochsner Family to create what would later become the initial Ochsner Park and Zoo. Today the park is a total of 26 acres.
1918-April
The first Park Board of the City of Baraboo was established and soon after playground equipment was installed and a bandstand was built. This bandstand was donated by Baraboo's first Park Board President, Herman Grotophorst, who also donated approximately $50,000 in stocks and bonds to the park.
1925
Clifford Campbell was appointed as Baraboo's first Parks Superintendent, he resided in the brick house located in the park. Mr. Campbell served as Superintendent for 32 years.
1926
The zoo was created with two deer donated by the Wisconsin Conservation Department and two bear cubs caught near Wisconsin Dells.
1927
The Baraboo City Council approved $300 to build new fencing for the deer and bears. Monkeys were also added to the zoo.
1957
The stone building located at the West end of the zoo was built, with the intention to house fox, coyote and racoon. This building is now the proposed location of the future River Otter Exhibit and Education Center.
1985
The Friends of the Baraboo Zoo, Inc. was founded by a group of local citizens with the sole purposes of enhancing, preserving and promoting the needs of Ochsner Park Zoo. Funds were contributed for the construction of the Llama Exhibit.
1997
A ten year Zoo Master Plan was developed with plans to update aging displays and public areas.
2012
Lynx Exhibit completed and proposed River Otter Display fundraising begins.