North American River Otter
Lontra Canadensis
Conservation Status: Least Concern
Characteristics:
They have short, powerful legs that help them paddle in water and gallop on land.
The back feet are broad and webbed with fixed claws.
Their tails help steer them as they swim through water or slide down hills.
They rely on their senses, especially their excellent vision.
They have thick and water-resistant fur.
Lifespan: 8 to 9 years in the wild and up to 20 in captivity.
Range and Habitat:
Canada and the United States, including Alaska.
Streams, lakes, reservoirs, wetlands.
They are found along marine coasts with vegetation or rock piles along the banks.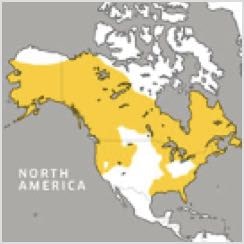 Diet:
Fish.
Crustaceans, snails, shellfish.
Rodents, birds.
Turtles and aquatic invertebrates.
Behavior:
They hunt at night.
River otters communicate with vocalizations or whistles, growls, chuckles, and screams.
They also communicate through scent mark, touch, and posture.
River otters are playful with sociable personalities.
Fun Facts:
They can give to depths of 60 feet.
They can hold their breath underwater for up to eight minutes.
Keeper Notes:
Moe was born in 2017 at Zoo Montana before coming to Ochsner Park Zoo. Moe enjoys putting items into his pools and wearing various buckets and containers on his head.